Advertisement
Today at Tasty Fun Recipes we have these Lovely Pancakes!Just imagine how your Valentine would feel if he/she saw this in the morning?
So lets get this started!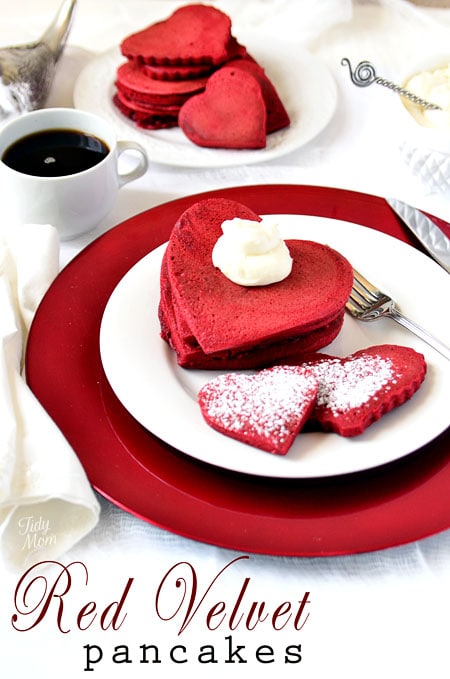 Ingredients:
PANCAKES:
1 1/2 cups all-purpose flour
2 tablespoons unsweetened cocoa powder
2 tablespoons granulated white sugar
1/3 cup powdered sugar
1 1/2 teaspoons baking powder
1/2 teaspoon baking soda
1 teaspoon ground cinnamon
1 teaspoon salt
1 1/2 cups buttermilk
2 large eggs
1 teaspoon vanilla extract
2 tablespoons white vinegar
1 tablespoon red food coloring (red gel paste will get the dark red seen in the recipe)
4 tablespoons (1/2 stick) salted butter, melted
KICKED-UP SWEET CREAM CHEESE TOPPING:
Two 8-ounce packages cream cheese, softened
1/2 teaspoon freshly squeezed lemon juice
2 cups powdered sugar
1/ 2 cup ricotta cheese
1 teaspoon vanilla extract
2 tablespoons prepared strong coffee
1 teaspoon rum (optional)
Please visit our next page for the easy instructions of this recipe!
Advertisement